Systems of mobile partitions NAYADA-UNO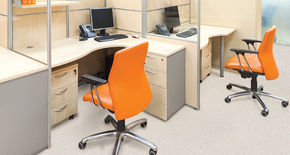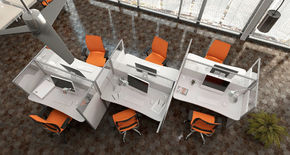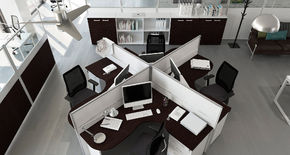 Purpose
Functional purpose:
separation of working areas and offices of middle managers;
jobs;
office/technical premises, etc.
Modules of the NAYADA-UNO system can be deaf, glazed, combined. As a filling, chipboard, DURAFORT vinyl coverings, fabric, glass or cellular polycarbonate are used.
The thickness of UNO mobile partitions is the smallest in the NAYADA line and is only 28mm. The NAYADA-UNO system provides for the use of connecting elements, hanging shelves, brackets for hanging monitors.
NAYADA-Uno mobile partitions
Module width: 28 mm;
Module length L: from 600 mm to 1200 mm in 100 mm increments;
Module height H: 1300, 1600 and 1800 mm;
Height of crossbar B: 900mm, 1200mm (specified from floor to top of crossbar).
The simplicity and lightness of the design of NAYADA-Uno mobile partitions makes this system universal and indispensable for the rational zoning of workplaces for office workers. Modules of the Uno system can be deaf, glazed, combined. As a filling, chipboard, Durafort vinyl coatings, glass or cellular polycarbonate are used.
Supports
The adjustable supports of the NAYADA-Uno system modules make it possible, if necessary, to compensate for uneven floors. To give the NAYADA-Uno structure additional stability, a universal support (2 pcs.) is used, or it is possible to use a wide Blitz support.
Mounting Uno to the wall
The NAYADA-Uno module wall mounting kit allows you to install the module at a distance of 22 mm from the wall;
Use the "Blitz remote mount kit" to mount the uno module remotely to the wall at a distance of 60mm.
NAYADA-Uno screens
The screen is designed to protect the working surface, covering the monitor, office equipment and a seated person. The length of the screen is equal to the length of the side of the tabletop on which the screen is installed (but not more than 1600 mm). For fastening to the surface of the table, use the "Clamp kit for the Uno screen".
Uno screen clamps allow you to fix the screen to the tabletop without a gap.
Standard screen height is 500mm. Maximum - 600 mm. When installing the screen, it is possible to achieve sound insulation of 12–13 dB.
Specifications
| | | |
| --- | --- | --- |
|   | Barrier thickness | 28 mm |
|   | Max height | 1.8 m |