Partitions made of precious wood NAYADA-Regina Line
Purpose
NAYADA-Regina Line is a Fixed partition system with hinged panels furnished with finewood veneer
This modern improved partition integrates austere European style and the warmth of natural wood. The system offers enhanced possibilities of assembling panels of various sizes at practically any spacing, which adds volume and individuality to any partition. Using more than 80 kinds of finewood veneer on the front side of each panel allows realizing most trailblazing projects.
PRODUCT AREA
VIP-areas, top management offices, negotiation rooms, halls and reception zones.
Specification
 
Partition width
89 mm
 
Maximum height
4.5 m as a partition
up to 12 m as wall dubbing
 
Sound insulation
35 dB
 
Fire resistance
—
Construction features NAYADA-Regina Line
Design Features
Basic elements
Profiles
The basis of the NAYADA-Regina Line partition is a metal frame that allows you to attach it to any floor slab, even through a false ceiling. The metal frame is closed with cladding profiles and panels made of MDF lined with fine wood veneer (or other materials).
Corners
Using a variety of corner connectors (from 90° to 270°) allows you to implement complex planning solutions.
Decorative elements
The plinth, made in veneer, provides a perfect connection to the floor and visually corrects its possible curvature.
The use of recessed strips of various widths between the panels allows you to most rationally determine the spacing of the panels with reference to existing doorways, windows and other design features of the room.
Slats made of a material different from the material of the panels solve the problems of color and aesthetic design of the partition as a whole.
The milled grooves in the door blocks, repeating the step of the planks in the partition, visually hide the doors themselves. Various cables placed inside the partition allow you to bring sockets and switches to the front panels at the right level.
Partition panels
Partition panels are made of MDF veneered with fine wood veneer (or other type of finish).
The direction of the wood pattern on the panels can be varied. Options for the breakdown of the panels can also be different, both with a breakdown under 90g., And according to an individually specified pattern.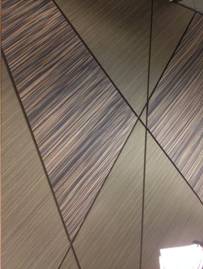 It is possible to inlay / marquetry panels, as well as decorative layout from an array of any section (for rooms in a classic style).
It is possible to smoothly transition the wall panels of the system to the ceiling, allowing you to solve the interior in a single way (walls-ceilings), and window sill space, i.e. in the same style, the execution of window sills and radiator grilles (with options for different perforations).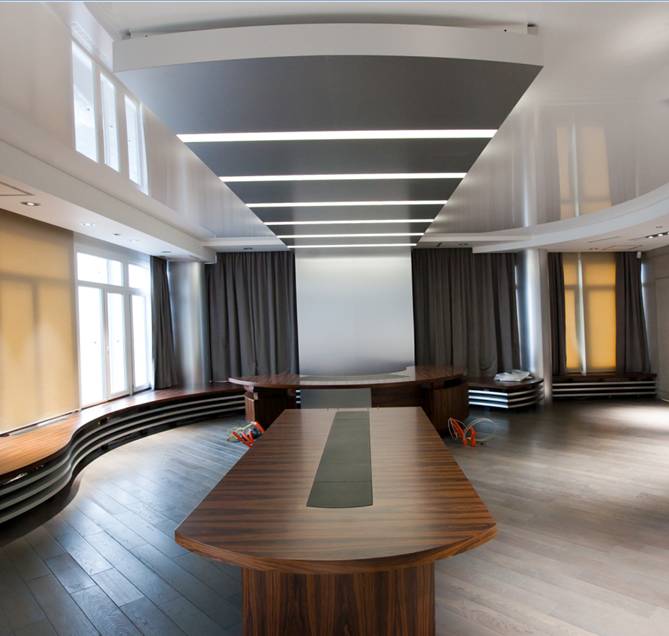 Manufacturing
Production terms
| | | | | |
| --- | --- | --- | --- | --- |
| Volume | Terms of project engineering (workdays) | Terms of materials purchasing (workdays) | Terms of production (workdays) | Terms of assembling (workdays) |
| 50 м2 | to 3 | 4 | 9-12 | 2-3 |
| 200 м2 | to 4 | 4 | 12-15 | 7-8 |
| 500 м2 | to 5 | 4 | 20-25 | 11-13 |
| 1000 м2 | to 5 | 4 | 30-40 | 22-25 |